Food truck pulls up to Glenbard East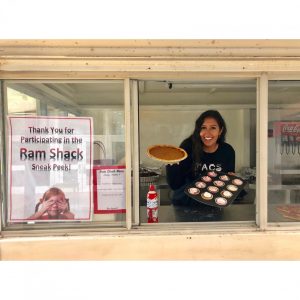 At last, students will be able to indulge in their favorite cravings here at Glenbard East. 
It all started when Ms. Janas, Culinary Arts 2 teacher, was working on a project with her students who had to create a menu for a mock food truck. When discussing the project with Mr. Kasicki, he wondered to what extent this could become a reality. Conveniently, there happened to be a truck parked in the teacher lot outside of Door 20. It is set to become the "Ram Shack," Glenbard East's very own food truck.  
On Friday, October 11th, the Ram Shack made its first appearance. Tickets were randomly given to 50 students in each lunch period, who then redeemed them at the truck located outside the foyer. In exchange for a free fall-themed dessert, including pumpkin cupcakes and pumpkin pie, students were asked to fill out a survey about what they would like to see from the Ram Shack in the future. Based on the survey, some popular foods the truck could serve include pizza, tacos, mini burgers, and fries.  
Students played a significant role in making the truck possible, and it didn't take much convincing to get them on board. For instance, Ms. Janas' Culinary 2 class was excited when they found out they would be baking treats for the truck. Students also volunteered to give up their lunch period in order to help run the food truck. 
So far, this year will act as a trial period for the Ram Shack. We want it to be "all-inclusive," says Janas.
One of the possibilities in moving forward is to create a class. It could be co-taught, potentially combining the accounting, culinary, and marketing classes. Students would learn how to cook, advertise the truck, and maintain its finances. After all, according to Mr. Kasicki, Instructional Technology Specialist the purpose of the Ram Shack is to have something "authentic" and to provide students with "real-world experiences" to learn from.
Regardless of where the truck's future lays, the goal is to make it a permanent part of the Glenbard East community. Hopefully, we will be seeing more of the Ram Shack next year.