What You Should Read Based Off Your Favorite Song On "Midnights" by Taylor Swift
I've learned one thing over the past few months from Taylor Swift: never fall asleep.
On October 21st, many other swifties and I stayed up until midnight, and then 3am to listen to all of Taylor Swift's new album "Midnights".
"Midnights" has broken so many records, most notably claiming all top 10 spots in the Billboard Hot 100 at the same time, making Swift the first person to ever accomplish this.
Glenbard East English teacher and huge swiftie, Delaney Hansen, said, "I really loved the "concept album" idea. I originally thought these would be more "From the Vault" songs because of the way she mentioned these songs were about "13 sleepless nights scattered throughout [her] life; however, I think I appreciate that these were written more recently."
Hansen also mentioned that it was fun to find references to her past through the lens of maturity that she now has. Her favorite songs on "Midnights" include "Karma", "Maroon", "Question…?", and "Would've, Could've, Should've".
Being both a major swiftie and reader, while I was listening to "Midnights", I kept thinking of books that had the same vibes as the songs I was listening to. They may have had similar storylines or similar themes, but one way or another they reminded me of each other. I hope you find the books recommended are just as beautiful as "Midnights" was. Happy Reading!
If you liked "Lavender Haze", then you should read Hello, Goodbye, and Everything in Between by Jennifer E. Smith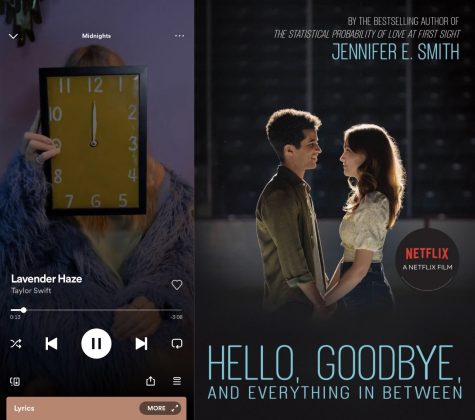 "Meet me at midnight"
"Lavender Haze" is the opening song for the album and talks through the all-encompassing feeling of loving somebody. Swift says she came across this phrase in "Mad Men" and was intrigued with its meaning, resulting in this song. Hello, Goodbye, and Everything in Between is about two students who are both about to leave for college the next day, but after spending a night together and trying to figure out whether or not they should stay together, everything changes. As the night progresses, they retrace their relationship in the form of locations, and soon will feel that "lavender haze" surrounding them.
If you liked "Maroon", then you should read Anna Karenina by Leo Tolstoy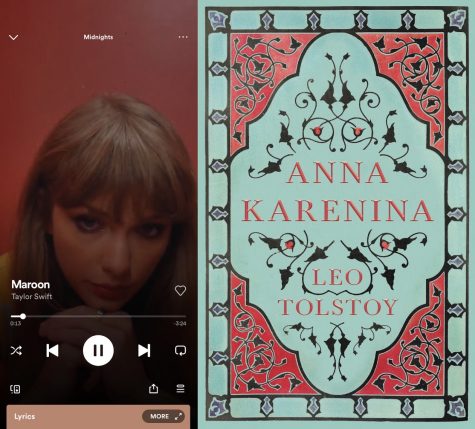 "And how the blood rushed into my cheeks, so scarlet, it was (maroon)"
"Maroon" is a song all about a failed relationship which is hinted at by lyrics like "How the hell did we lose sight of us again?" and "Sobbin' with your head in your hands". The first time I listened to this song I felt a kind of comfort which I often feel when reading classics. This makes Anna Karenina the perfect recommendation for "Maroon" because it's not only a highly regarded classic, but it also depicts a series of broken relationships. One of my favorite quotes in the book about love reads,'"Love. Why I don't like the word is that it means too much for me, far more than you can understand," and she glanced into his face. "Au revoir"'
If you liked "Anti-Hero", then you should read My Year of Rest and Relaxation by Ottessa Moshfegh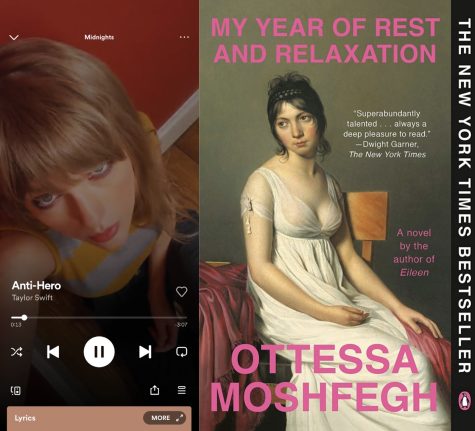 "I'm the problem it's me"
This song delves into Swift's insecurity with herself. I think this book and song pair really well with each other because of how much Swift portrays herself as being this incredibly unlikeable being by calling herself the "problem" in the song. My Year of Rest and Relaxation stars an unlikeable character and how she deals with her grief and depression through sleep. She creates problems for herself, making her an issue in not only her own life but also of the people that care about her as well. She approaches these problems under the influence of drugs prescribed by her irresponsible therapist, but comes to realize that there is beauty in life without her drugs. This book talks about many heavy subjects, so before going into it, I recommend doing research on some trigger warnings in the book to figure out if it is right for you.
If you liked "Snow On The Beach (feat. Lana Del Rey)", then you should read Beach Read by Emily Henry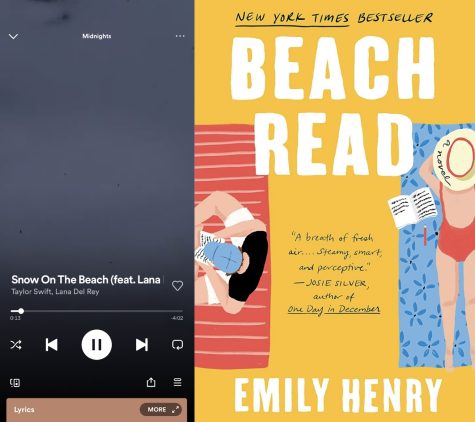 "Flying in a dream, stars by the pocketful"
"Snow On The Beach (feat. Lana Del Rey)" shows the sensation of falling in love with somebody at the same time that they are falling in love with you. This book gets extra credit as well because it's set on the beach! Beach Read follows two writers, January Andrews, who writes happy and bubbly romances, and Augustus Everett, a writer of literary fiction. They couldn't be any more different from each other. Since they both have writer's block, they decide to strike up a deal to write in the other's genre, and while doing so they discover more about themselves than they could have imagined. It may even lead to love…
If you liked "You're On Your Own, Kid", then you should read Matilda by Roald Dahl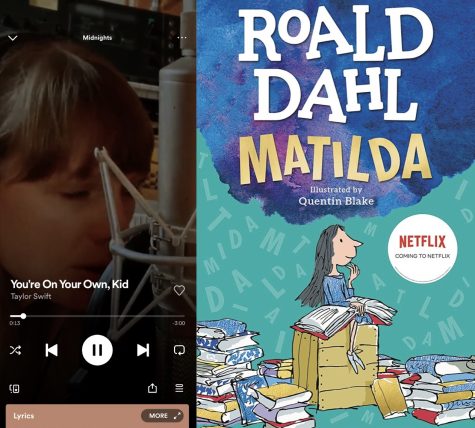 "Everything you lose is a step you take"
In this song, Swift describes one of her earlier midnights in which she runs away to chase her dreams, yet once she reaches fame she realizes she was all alone. While Matilda is a book intended for younger audiences I learn something new from the book every time I read it, and I think any reader can learn something as well from reading her adventures. Matilda was born incredibly intelligent, but with no support from her parents, she must teach herself everything she knows. Her intelligence represents the fame that is talked about in this song, and how she reached it all on her own, while also facing constant negativity from her parents.
If you liked "Midnight Rain", then you should read Little Women by Louisa May Alcott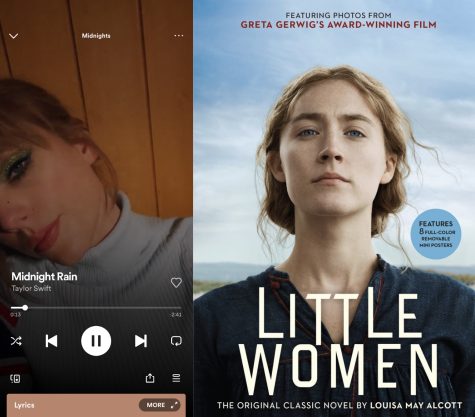 "He was sunshine, I was midnight rain"
Little Women is one of my favorite books of all time, and I thought of Jo and Laurie's relationship immediately after listening to this song. "Midnight Rain" describes a relationship between a happy and hopeful boy, and a girl who crushes his dreams because of her own dreams. Little Women stars the March sisters, Jo, Beth, Meg, and Amy. While the premise of this family struggling through survival in New England  during the Civil War may seem a bit bleak, the adventures that occur will hold the attention of anybody reading. "Little Women" is a classic for a reason, many relate to the characters in this book and thoroughly enjoy the plot, a perfect recommendation for any reader!
If you liked "Question…?", then you should read Red, White & Royal Blue by Casey McQuiston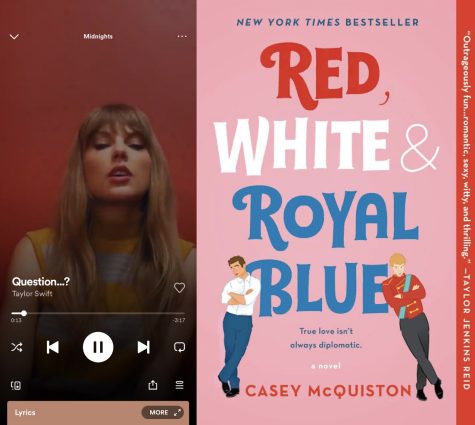 "Did you leave her house in the middle of the night? Oh"
"Question…?" is about the secret moments that are shared in a forbidden relationship. The lyrics "Our secret moments in your crowded room" and "They've got this idea about me and you" hint that this relationship is forbidden by either society, friends, or family as represented by the "they" pronoun used. Red, White & Royal Blue is an unlikely romance story between Alex, the First Son of America, and Prince Henry of Wales. They have to keep their relationship secret because of the backlash they'll face from just about everybody. Will their love make it though or will it crumble under pressure?
If you liked "Vigilante Sh*t", then you should read Dracula by Bram Stoker"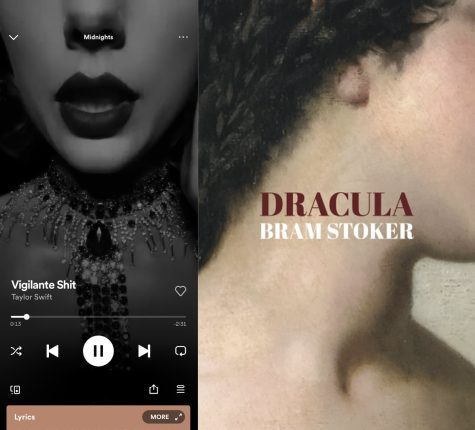 "Don't get sad, get even"
This song is all about revenge. The first time I listened to this song, it sounded like it would fit perfectly on Swift's 7th studio album named "reputation". Both this song and "reputation" have a darker feel to them, so therefore I choose a bit of a darker story to go along with it. In Dracula, Jonathan Harper visits Transylvania to help Count Dracula with a new purchase, but Harper soon discovers some horrific things about his client. With lyrics like "Draw the cat eye, sharp enough to kill a man", it appears that Swift has painted herself as a femme fatale kind of character which matches perfectly with Lucy in Dracula who is the ultimate femme fatale.
If you liked "Bejeweled", then you should read Queenie by Candice Carty-Williams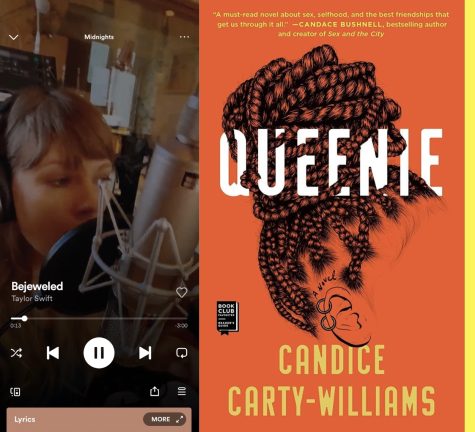 "I can still make the whole place shimmer"
"Bejeweled" is a song all about a woman who feels taken advantage of by her previous partners, and wants to be more than just a man's arm candy. After realizing her worth, she realizes that she "can still make the whole place shimmer". In Queenie the main character, Queenie Jenkins suffers from a messy breakup with her long-term boyfriend. She finds comfort in several short-term relationships, all of which breaks down her self worth. This story about a woman trying to find her way through a world filled with negativity will have any reader intrigued, especially for fans of contemporary fiction!
If you liked "Labyrinth", then you should read Weather Girl by Rachel Lynn Solomon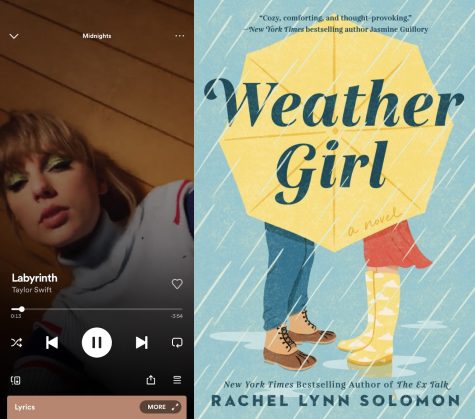 "Uh oh, I'm falling in love"
This song is all about the anxiety that Swift feels when it comes to love. Expecting the worst, and then being surprised and delighted when they end up working out. In Weather Girl, Ari Adams, a meteorologist, tries to stay positive and optimistic after her boss Torrance Hale didn't give her the mentorship she hoped for because of Hale's own relationship problems. The only one Ari can turn towards for comfort is a sweet sports reporter named Russell Barringer, and they soon make a pact to fix their boss's relationship. As they try to fix other relationships they start to form a bond of their own, but by working so closely with each other Ari reveals some parts of her that she would have otherwise wished to keep secret. Will Ari be able to open up to Russell or will her anxieties and storm clouds get the best of her?
If you liked "Karma", then you should read Payback's a Witch by Lana Harper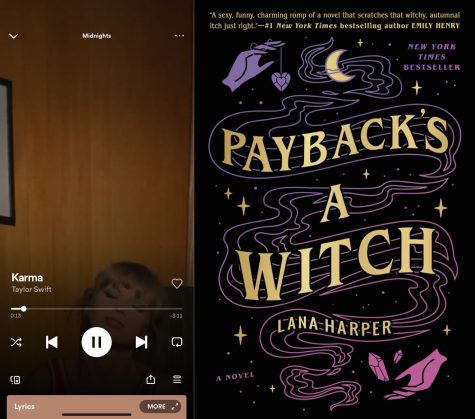 "Karmas a relaxing thought/Aren't you envious that for you it's not?"
For Swifties the word "karma" has a lot of meaning behind it. "Karma" was an album that never existed but was thought to be released around the time that "reputation" was dropped. Because of the history behind this word for Taylor Swift fans, many were incredibly excited about this song, which is exactly what you guessed it would be about, karma. In Payback's a Witch, they hint at karma before you even finish reading the title, but as you continue to read you'll see many examples of karma sprinkled throughout. The story starts with Emmy Harlow, a witch without much power, returning back home, which brings back memories of friends, family, and Gareth Blackmoore, a known heartbreaker and powerful witch. Soon Harlow will run into Talia Arvamov, who just freshly broke up with Blackmoore, and they both seek revenge…
If you liked "Sweet Nothing", then you should read Love & Gelato by Jenna Evans Welch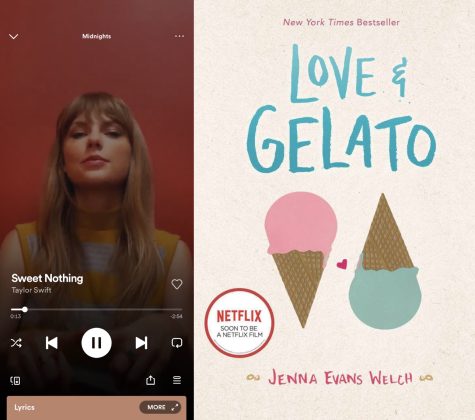 "I find myself running home to your/Sweet nothings"
This book starts out with Lina recounting her mothers final wish for her, to visit Italy and get to know her father. Once she arrives, all she wants to do is go back home but after discovering not only a journal left from her mother talking about her time in Italy, and a charming neighbor named Ren, she decides to stay. Ren and Lina become friends, and since Ren is a resident of Italy, he shows her everything she could ever want to see, all while working together to solve a mystery that could change Lina's life. Love & Gelato is such a cute and quick read, and reminds me perfectly of wholesomeness in "Sweet Nothing".
If you liked "Mastermind", then you should read The Great Gatsby by F. Scott Fitzgerald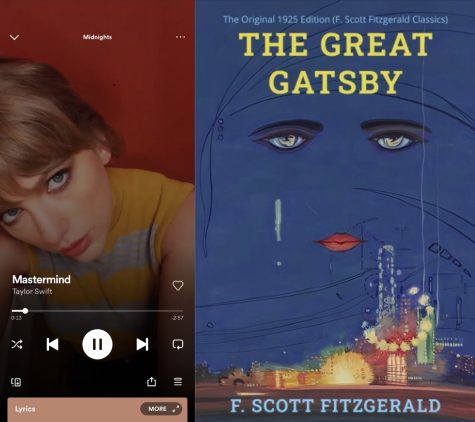 "What if I told you none of it was accidental/And the first night that you saw me, nothing was gonna stop me?"
Bonus points to this book because the "Delicate" music video was filled with references to the book! "Mastermind" depicts Swift as a puppet master, but not as a manipulator as many critics have painted her to be, but rather somebody doing these actions out of anxiety. In The Great Gatsby Jay Gatsby changes and rearranges his whole life around his love for Daisy Buchanan. He took many lengths to gain her attraction including buying a mansion across the lake from her. A famous quote from Gatsby describing his love for Daisy says, "And what's more, I love Daisy too. Once in a while I go off on a spree and make a fool of myself, but I always come back, and in my heart I love her all the time."
If you liked "The Great War", then you should read The Fault in Our Stars by John Green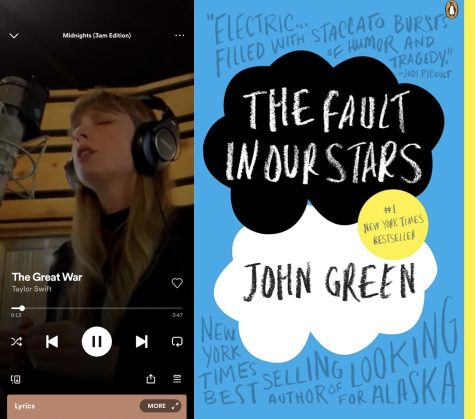 "My hand was the one you reached for/All throughout the Great War"
Hazel normally doesn't like going to her weekly support group, but that all changes after Augustus appears one day. After bumping into each other they conversate and make plans for a future date. Spending time together as friends turns into something more, but the "war" they face isn't a regular war, they are both suffering from cancer. They found comfort in each other no matter how much cancer was affecting them at the time. This is a story of the tragedies and triumphs that come with being young and in love and matches perfectly with the song "The Great War".
If you liked "Bigger Than The Whole Sky", then you should read You've Reached Sam by Dustin Thao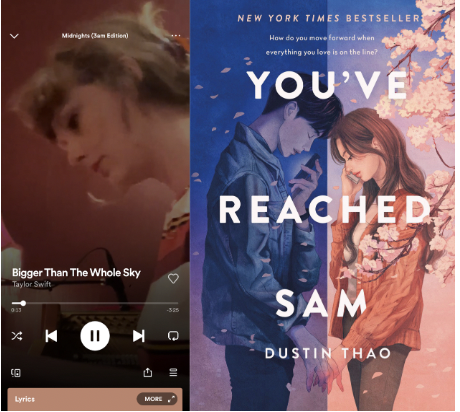 "Every single thing I touch becomes sick with sadness"
"Bigger Than The Whole Sky" is about the one that got away. It talks through the idea of somebody that was taken away too soon. You've Reached Sam is about a relationship between Julie and Sam, but suddenly when Sam dies everything changes. Julie does everything she can to forget about Sam because the memories pain her so much. Julie soon becomes so desperate to hear Sam that she calls him in hopes of hearing his voice on voicemail. But, Sam picks up. You've Reached Sam is a heart-wrenching story about love and loss and is guaranteed to make any reader's eyes a bit wet!
If you liked "Paris", then you should read Anna and the French Kiss by Stephanie Perkins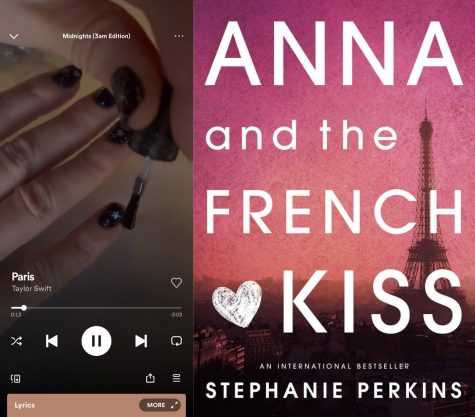 "Cheap wine, make believe it's champagne/I was taken by the view/Like we were in Paris"
"Paris" is about the early stages of a relationship and how infatuated you are by your partner. This makes everything seem magical no matter how dull the moment may be. This is referred to in the above quoted lyric which says, "Cheap wine, make believe it's champagne". This book stars Anna, who was originally looking forward to spending her last year in high school at home where she knows everybody and everything is planned out for her. But this all changes when she is shipped off to boarding school in France. With discovering what's going on around her, she may even discover love. Anna and the French is just as cute as "Paris"! You'll find yourself smiling as you read about how it feels to be young and in love.
If you liked "High Infidelity", then you should read Maybe Someday by Colleen Hoover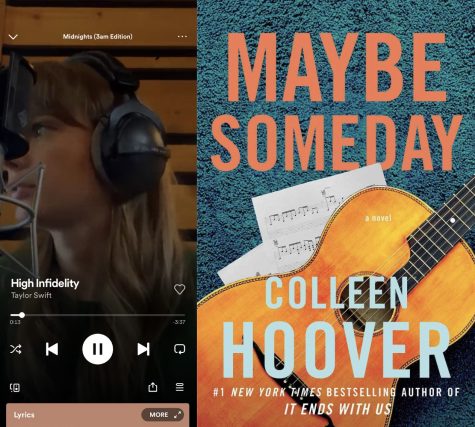 "Do I really have to chart the constellations in his eyes?"
"High Infidelity" has a lot of personal history behind it, making it harder to connect an exact book to it. The lyric "Do you really wanna know where I was on April 29?" signifies a really important date, when "This Is What You Came For" with Rihanna was released. Why is this so significant, you may ask yourself, because it was written by Swift under the pen name, Nils Sjoberg. On April 29, 2016, the date she is referring to, Swift and Calvin Harris had been dating for more than a year, but just a month later broke up with this collaboration being their breaking point. The history between Swift and Harris is long and complex, but that is a story for another time! "High Infidelity" and Maybe Someday connect over their ideas of failed relationships and making music. Maybe Someday is a quick and easy read and ended up really enjoying it!
If you liked "Glitch", then you should read The Cheat Sheet by Sarah Adams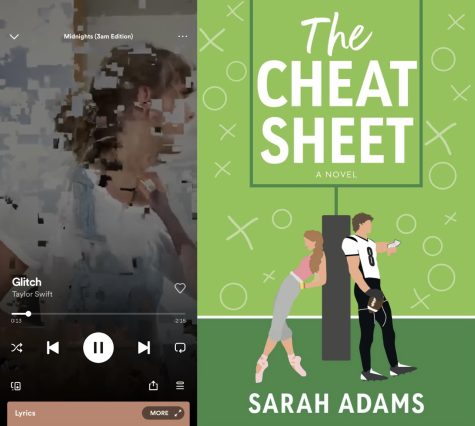 "I think there's been a glitch/Five seconds later, I'm fastening myself to you with a stitch"
"Glitch" describes an unlikely relationship between friends from the lyrics, "We were supposed to be friends" and then "I thought we had no chance." The Cheat Sheet is about an improbable friendship between a professional quarterback and a ballet teacher. Bree Camden has been in love with her best friend, Nate, the quarterback, since high school, but never believed that he reciprocated the same feelings. After Bree drunkenly told too much to a reporter, they sign a contract to fake date until after the Super Bowl in hopes of appeasing the public. Will they remain friends or will there be a "glitch"?
If you liked "Would've, Could've, Should've", then you should read Where We Belong by Emily Giffin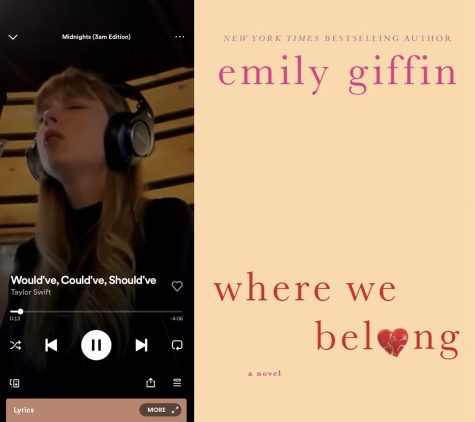 "Memories feel like weapons/And now that I know, I wish you'd left me wondering"
"Would've, Could've, Should've" is a song about the regret she feels from a past relationship. As quoted above, she sings "Memories feel like weapons". In Where We Belong the main character Marian Caldwell starts out the story by living her dream life. She's a television producer residing in New York City, what could be better? This all changes though when she gets a knock on the door from a young girl named Kirby Rose. Kirby holds a key to Marian's past, in which Marian thought she had concealed forever. They embark on a journey that is sometimes painful, yet also healing. The writing of the story is amazing and will take the reader along for the journey alongside the characters.
If you liked "Dear Reader", then you should read Who Can You Trust?: How Technology Brought Us Together and Why It Might Drive Us Apart by Rachel Botsman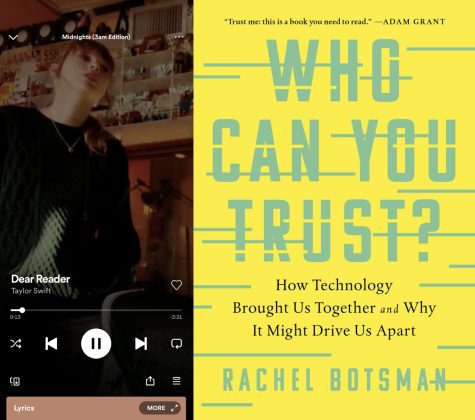 "Never take advice from someone who's falling apart"
"Dear Reader" is a cautionary tale for the listener. Swift warns that even though we have listened to her music for so long, we should not trust everything she is saying because at the end of day, she is still a human being. Who Can You Trust?: How Technology Brought Us Together and Why It Might Drive Us Apart was such an interesting read. It talks all about trust, and sometimes how that sense of trust can be exaggerated with the use of technology in our society. The book delves into many different topics which I found to be very entertaining to read. Both the song and book connect over this idea of trust, which is intriguing because of how heavily our society relies upon the idea.