A Renewed Club Brings Change
This school year, there is a leadership club called Students for Students (SFS). It aims to create a welcoming environment at Glenbard East for every student. 
Gilda Ross, the Glenbard Student and Community Projects Coordinator, said,  "The SFS club has a mission for students to be their very best. It is going to work to enhance belonging for everyone, and it is committed to healthy decision making. We work to educate and inspire healthy decision making."
Students from any grade are able to join SFS by attending meetings. Ross said she encourages students to join and bring a friend. There are meetings nearly every Thursday after-school in room 143, but the schedule can vary. 
Additionally, activities, such as hanging flyers for events, are done during Monday PLC. Keisha Edwards, a teaching assistant, also known as Mrs. K, is the sponsor of this club.
Junior Leila Nehra, one of the club's leaders, says, "At this time, we have like 20 active members of the club which is extremely surprising because it just popped out of nowhere. The fact that people trust us enough to join is amazing and I'm hoping through this, we can get so many more people to join."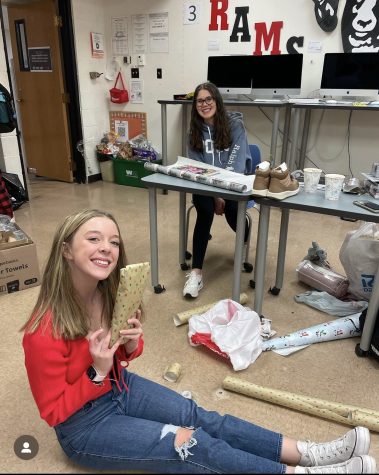 The club wants every student to feel belonging at East and make good choices. Furthermore, SFS wants to take stigma off certain topics, such as mental health and substance abuse, while providing leadership skills. They focus on national campaigns, like Red Ribbon Week and Live Life Well Week. In December, the Giving Tree was set up in the counselor's office. 
In the future, SFS wants to do Relay For Life and a lock-in at the school to raise money for cancer survivors and bring awareness to cancer. Through a lock-in, a lot of money can be raised and students will be able to connect with others at East. The lock-in is in planning stages, and it has not yet been approved.
According to Ross the purpose of the club is to empower students to help themselves and each other.
Edwards said, "It's a club where students are advocating for their students, as far as events go, and things they want to see around the school with a strong emphasis on giving back. It's to bring awareness to things that are happening around the students that they may not know about." 
After the death of a Glenbard East student due to overdose, the SFS club and school administrators brought Stephen Hill, public speaker, to Glenbard East. Hill shared his story about substance abuse during Red Ribbon Week. Red ribbons were put up around the trees and posters about drug awareness were hung up by the students in SFS.
In fact, among teenagers, substance abuse is a problem. According to the National Center for Drug Abuse Statistics (NCDAS), 46.6 percent of teens have tried illegal drugs by 12th grade. That's nearly half of teenagers.
"Substance misuse in teen years has been a challenge and post-COVID, maybe more with student anxiety at an all-time high," said Ross. "What we've learned is that protective factors make a difference. Being connected to your home, religious institutions, and school make a difference. Students having a voice is another protective factor."
At Glenbard West in 1990, the club was started by Ross, when she was a school counselor. She was able to bring it to all Glenbard schools. Counselor Selina Lepsi and FACS teacher Amanda Murawski were the SFS sponsors back then. Every year, a goal was formed by students. Back then, there was focus on drinking and driving, smoking, and marijuana. Lately, mental health has become a bigger focus. 
Students at Glenbard East are encouraged to join, and bring a friend. By joining, they will be part of the SFS community that encourages positive actions.