Officially, Fall began on September 23rd; however, many companies introduced new fall flavors as early as August. Excitingly enough, fall lovers have a variety of items to enjoy. With the arrival of the new season's foods, we have decided to review what we believe to be "The Best of Fall". 
Mainly, we took into consideration the strength of each product's pumpkin flavoring. We ranked this on a scale ranging from one to five:  one meaning the food consumed had little pumpkin flavoring and a five having a lot of said flavor. Also important to our personal tastes was the sweetness of each product. 
Our rankings also include what we believed others would enjoy the most, as the products reviewed can cater to many tastes, from sweet to savory foods. 
Pumpkin Spiced Pumpkin Seeds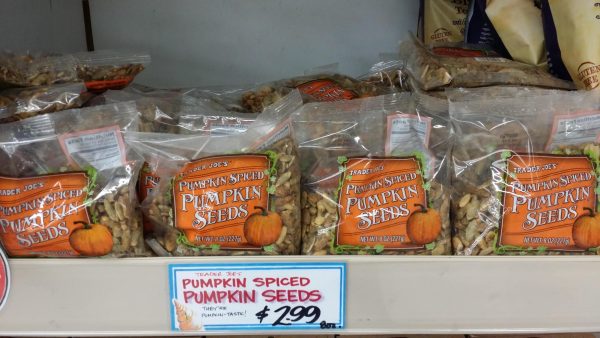 Pumpkin Flavor: 4/5
A sweet and savory snack, the Trader Joe's Pumpkin Spiced Pumpkin Seeds take the traditional pumpkin seed and combine this with a mixture of spices. Trader Joe's has mastered the seasonal release of fall themed foods, and these are an absolute must. Bearing a saltier combination, as opposed to sweet, these are simply the perfect snack and are also cost effective. For $2.99, each bag contains seven servings, overall providing a great value of product. An easy and light snack, the Pumpkin Spiced Pumpkin Seeds are absolutely worth trying. 
Starbucks Pumpkin Cream Chai Latte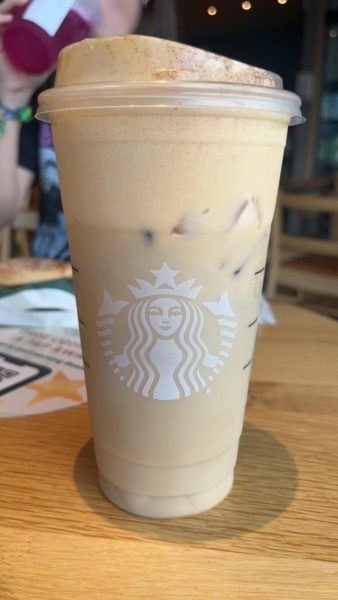 Pumpkin Flavor: 4/5 Sweetness: 4/5 Presentation: 4/5
By a wide margin, our favorite seasonal product released is the Starbucks Pumpkin Cream Chai Latte has received high praise for being one of Starbucks' top releases. Arguably, the best addition to this drink, is the pumpkin flavored sweet cream cold foam, enjoyed at first sip. Not only this, but the pumpkin flavored Chai is just as delicious, leaving a spicy aftertaste. This sweet and spicy combination of the cold foam and chai works pleasantly well and perfectly encapsulates what fall would taste like. 
Dunkin' Pumpkin Munchkins 
Pumpkin Meter: 3/5 Presentation: 1/5 Sweetness: 3/5 
The Dunkin' Pumpkin Munchkins are a great alternative to a pumpkin donut! The taste of pumpkin is present in this small pastry without being too over or underwhelming. It's easy to eat and won't be heavy on the stomach since it's a light, moist bread. Additionally, it's affordable as 10 can be bought for only $4.00! 
Butternut Squash Mac and Cheese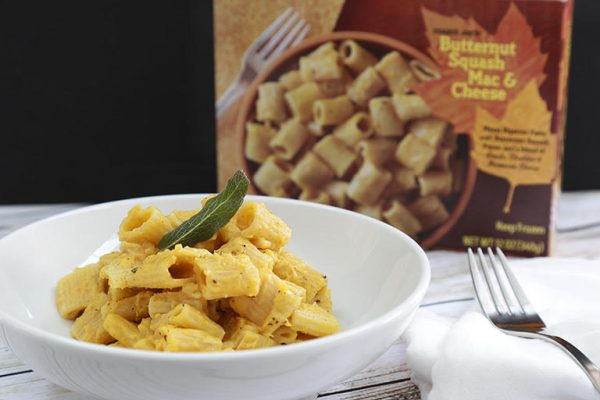 Pumpkin Flavor: Not Applicable    Sweetness: 0/5     Presentation: 3/5
Although lacking in any pumpkin flavor, the Trader Joe's Butternut Squash Mac and Cheese is a perfect and convenient warm meal to enjoy during the cold weather. This product is constantly sold out in stores, making this an obvious staple to Trader Joe's shoppers. At just under $5, this is an extremely filling meal and is also quite simple to cook. In a microwave, a warm and hardy dinner can be prepared in less than ten minutes. However, if you want to try, we urge you to get to a local Trader Joe's soon, as this product has a significant amount of popularity and appears to sell out quickly. 
Pumpkin Spice Oreos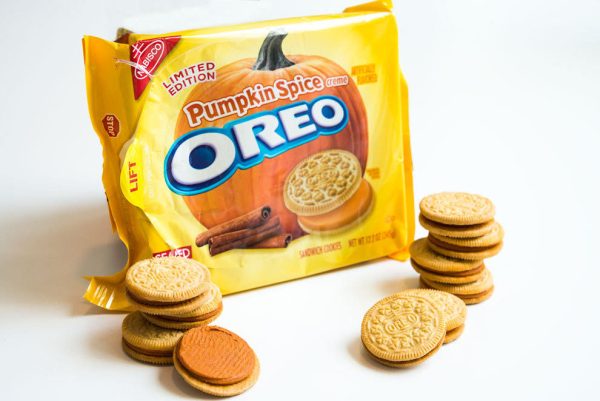 Pumpkin Meter: 1/5 Presentation: 3/5  Sweetness: 4/5
With more than 85 flavors released by Oreo, the limited edition "Pumpkin Spice" flavor was added to the list in 2014. As noted on the packaging, its look is completely different from the original Oreo, with a golden biscuit and orange creme. The biscuit and creme blend well together. There is a subtle hint of pumpkin spice flavor within the regular Oreo creme flavor. It's perfect for those who want a fall-themed snack without an overpowering pumpkin flavor! Priced at $4.69 for a standard pack at Target, it's inexpensive. 
Starbucks Pumpkin Cream Cheese Muffin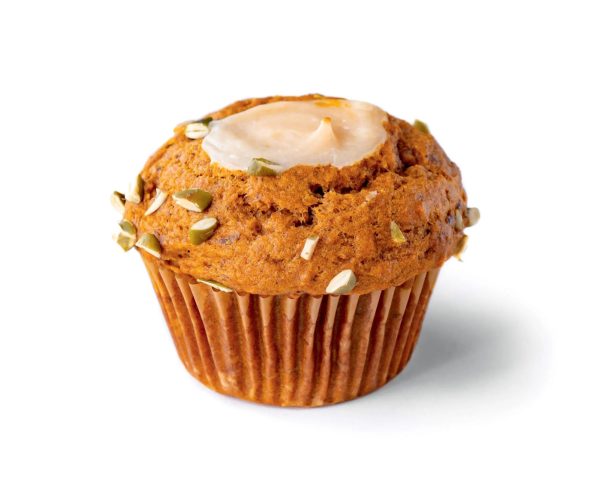 Pumpkin Meter: 4/5 Sweetness: 4/5 Presentation: 5/5
A new addition to Starbucks' fall release, the Pumpkin Cream Cheese Muffin is another sweet, yet savory, favorite fall treat of ours. Worth noting, is how excellent the product is presented. The color of the muffin itself is a shade of orange and it lacks any sense of artificial additions. The placement of the pumpkin seeds, as well as cream cheese, also compliments the product nicely. The quality of the presentation is great and the flavoring is incredible. The muffin itself is very moist and has a savory aftertaste. However, the cream cheese placed at the top of the muffin adds a hint of sweetness, having a perfect ratio between sweet and savory. 
Dunkin' Pumpkin Spice Grahams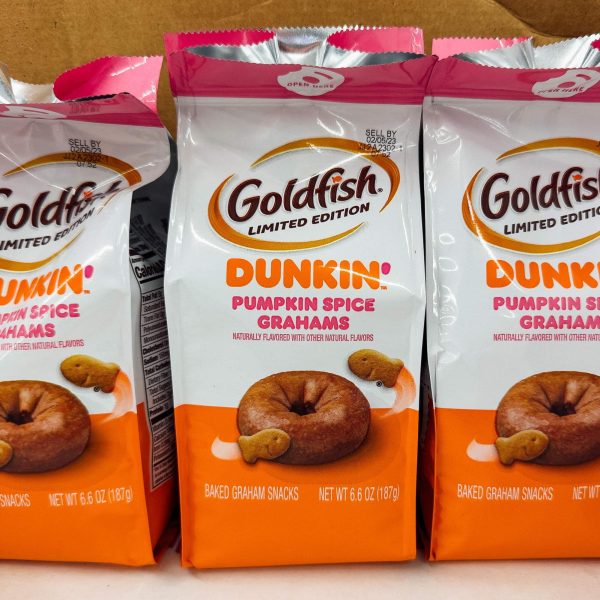 Pumpkin Meter: 3/5 Presentation: 2/5  Sweetness: 4/5 
Unlike the majority of Goldfish, the Dunkin' Pumpkin Spice Grahams are a sweet version of the popular snack. The grahams are crunchy, soft, and coated in light powder. A balanced amount of pumpkin spice flavor is noted throughout the cracker. It does a good job of replicating the pumpkin flavor in Dunkin' products! This snack can be eaten anywhere because the grahams are eaten in a single bite. 
Trader Joe's Pumpkin Blondie Brownies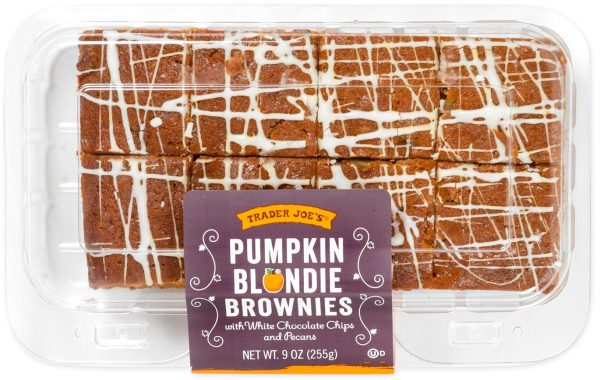 Pumpkin Meter: 5/5  Presentation: 2/5  Sweetness: 5/5 
Our final addition to the list are the Pumpkin Blondie Brownies from Trader Joe's that are a blend of different flavors. Inside these brownies are white chocolate chips and pecans, contributing to the sweetness of the desert. Noticeable in every bite is the pumpkin flavor, which is overpowering, making it great for those who adore a strong pumpkin taste! Also, the bread is fresh and soft, so it's well worth the purchase. 
On the market, there is something for everyone to enjoy this fall! Different tastes are fulfilled with each of these items that show the flavors of the season. No two products are the same. Hopefully, this article will help in choosing what you purchase on your next grocery store trip! Happy Fall!