Teacher's pets: get to know your teachers and their pets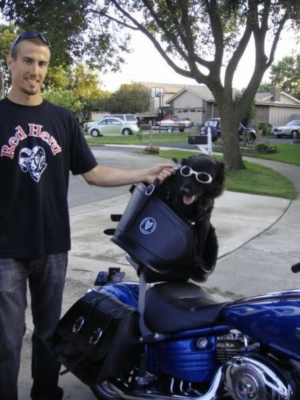 Mr. Sabol
Math teacher 
What's your pet's name?
Her name is Harley. If you were thinking like the motorcycle brand, then yes you'd be correct. 
How do you and your family like to spend time with your pet? 
In the warmer weather, my family and I will take Harley to the dog park, she loves swimming, and she also will ride with me on my motorcycle. (Shown in the picture) 
Any interesting facts involving you and your pet? 
As I said before, she rides with me on my motorcycle, but I once rode with her on the back seat all the way to North Carolina — She's gone cross country with me. When she was younger, she was really good at catching frisbees. 
When you adopted your pet, what about them stuck out to you and why did you choose them? 
I adopted her from a shelter. She was in a cage with 2 other dogs that were really jumpy, but she was just calm and really sweet. I just knew she was the dog for me.