Infinite Monkey Theorem, Glenbard's most exciting independent musical trio

If you consider yourself a fan of homegrown, independent music, do yourself a favor and mark the calendar for December 3rd as album rollout day for Infinite Monkey Theorem's latest project, Nursery Rhymes.
Infinite Monkey Theorum's debut mixtape garnered school-wide attention and a positive reception, elevating the trio from ideas and aspirations on their end into a concrete and legitimate player within the ever-expanding genre of indie music. The trio consists of juniors Charles Jones, Ian Galvez, and Daniel Gonzalez.
The debut project blends various rhythmic guitars, layered and nasally vocals, simplistic yet satisfying basslines, catchy and memorable hooks, and lyrical content reminiscent of bedroom pop. Despite its short run-length (approximately 15 minutes), the workmanship and song structure is exceptional. 
The band's origins go back to 2018 and an eighth grade math class at Glenn Westlake. Jones and Gonzalez formed a friendship initially built on drawing mockup SpongeBob characters bearing resemblance to the absurd cloud rap phenomenons of the day. The relationship quickly extended beyond the classroom.
Outside of an Urban Outfitters, Gonzalez brought up the name Puke as a potential band name, and thus, the duo was formed. Puke was an outfit that lasted two years, but was not very active.
A couple recording sessions were held. However, they hit an artistic wall and ceased recording for about a year, before finally getting back in the booth and realizing that the sound they were trying to produce simply wasn't working. Jones was experimenting with more guitar driven, indie oriented sounds, so the two decided that it was the direction in which they would move forward.  
The first demo they recorded with this newfound sound was titled "Puke On the Pavement," which made it to the debut mixtape after a set of revisions. It was recorded in about 45 minutes and came much more naturally and organically than prior recordings under the "Puke" namesake.
To match the drastic shift in sound, the band direly needed a name change.  The two settled on the "Infinite Monkey Theorem," a genuine theory stating that, "a monkey hitting keys at random on a typewriter keyboard for an infinite amount of time will almost surely type any given text, such as the complete works of William Shakespeare."
Ian Galvez, whose soulful vocals and diverse dynamic range would go on to dominate their top streamed "De la Cruz Interlude," also became a part of the effort. Galvez and Gonzalez exchanged snapchats in which Galvez showed off his vocal competence in a most humorous way, soulfully belting, "I'm eating chicken fajitas," to which Gonzalez and Jones came to realize that he may be a perfect fit for the band.  Ian made appearances in the studio during the final stages of creating the mixtape, which explains why he is only featured one time throughout the course of the project.  
The members have a wide range of musical influences, spanning from the likes of Memphis hardcore rap music, to 70s and 80s soul R&B, to their admiration for the late great Mac Miller. It is almost puzzling to hear such a cohesive and consistent sounding record come from such unique and varying preferences and backgrounds.  
However, Charlie Jones explains that "once we found that middle ground, all the other influences came in more abstract ways." He points to the likes of Elliot Smith and credits him for influencing the vocal layering on the tape. Gonzalez references Lil Wayne as the one responsible for inspiring him to pursue writing music. And Galvez has always enjoyed both the vintage and Y2K sounds of the R&B scene, which can be heard in his vocal pedigree and performance.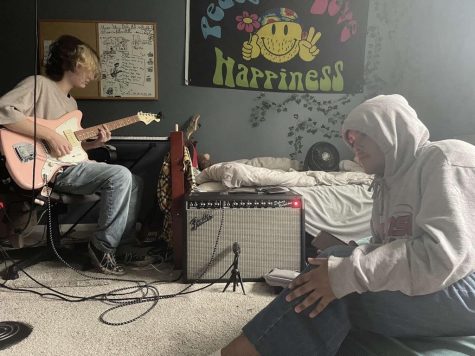 It is a matter of compiling these influences and compartmentalizing them into smaller pieces of the music as a whole that translates so well.  There is such a broad range of music being pulled from that, although they may have released an indie rock album, it seems wrong to put them within the confines of one genre.  And truth be told, it's also part of what makes the group so exciting. Their open mindedness and willingness to give unique and foreign sounds not only a listen but chance to manifest themselves in the art they create serves to stave off artistic stagnation, and makes for a very refreshing approach to the creative process. 
This was reflected in a recording session in which they improvised for almost thirty minutes on only guitar and vocals, starring none other than Jones' signature pink Fender Jazzmaster and Galvez's soulful vocals. 
It is surprising how organic and natural everything seems to come to the trio. The structure in which they write is very loose and relaxed, starting with Jones navigating his way through multiple percussion packs and sounds on Ableton, as Ian and Danny contemplate melodies and jot lyrics down on notebooks, in addition to scrounging through old drafts for inspiration and input.
The future seems bright for the Infinite Monkey Theorem, with Nursery Rhymes just around the corner releasing the third of December. IMT have been posting numerous promotional snippets on the respective members' social media as well as the group's instagram. The album already seems to have a very different sound from the last and features collaboration from other Glenbard East students on the project, such as guitarist Michael Morley and vocalist Lily Lopez, among others. IMT also stated that they intend to release an R&B track this coming Valentine's Day.