Puffs: your next favorite play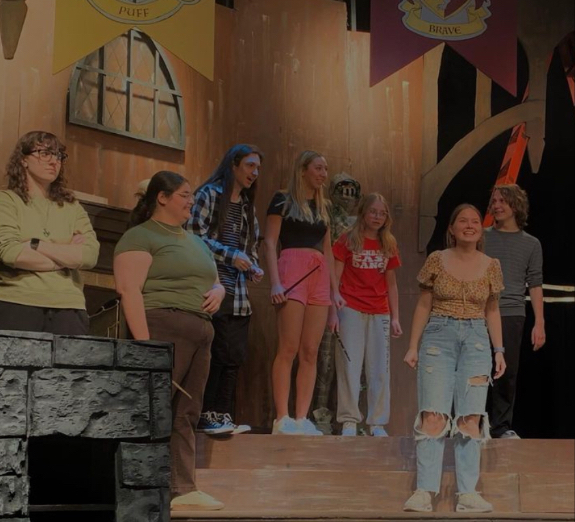 From "Mamma Mia!" to "Hay Fever", Glenbard East Theatre is always on the clock working hard to produce shows and entertainment that everybody can enjoy, and this spring season they're bringing "Puffs" to East! "Puffs" is a show that will be recognizable to many as it's a comedy based on the popular "Harry Potter" franchise. Publicity crew head, Owen Voke, describes the play by saying, "'Puffs' is a 'Harry Potter' parody based on the lesser known house, the Hufflepuffs." The play will run from April 20-22 in Rider Hall at 7pm.
Joshua Rubin, a speech and theater teacher, is the director of the production. He's worked on projects ranging from musicals to more serious productions, to even improv shows! "The nice thing about 'Puffs' is that we are actually spoofing something very recognizable. This is more family oriented than some of our previous shows and welcoming to the community, so it's something that's a really fun gift to share." Rubin said.
With all of the magical aspects that come along with a "Harry Potter" parody, this production is different from many others. Assistant director, Addison Gill, shares, "There's a lot more tech, like we have more lighting cues and sound cues than other shows and how everything was put together." Sam Rotar also commented on the quickness of putting together "Puffs", comparing it to another show called, "Too Much Light Makes The Baby Go Blind." "I feel the same kind of adrenaline," Rotar shares.
Not only is this show different from others because of its production, it's different because of the special packages offered. Along with the purchase of just a ticket, you can also buy a package deal with a pre-show dinner included. This dinner will take place in a fully decorated Biester Auditorium at 6pm, an hour before showtime. This package not only includes your meal which is either from, Avanzare if attending Thursday, Miller's Ale House if attending Friday, or Mariano's if attending Saturday, along with your admission to the show, it also includes entertainment during your meal in the form of Harry Potter trivia. "It's immersive…Experience the magic!" said Voke.
One actress in her senior year, Linaea Walsh, starring as Hannah, Runes Teacher, and Xavia Jones in "Puffs", wasn't only busy with memorizing lines and going to rehearsal, she was also working on producing and releasing her debut single "the weekend". This song was released on April 14th, only 6 days before the opening night of the show. When asked how managing both new music and "Puffs" has been going, she responded by saying, "It's been interesting, and it's very cool to see people's responses. But I'm also very busy, like next week I'm recording a new song that's going to be released, but I have to record that and then go straight to a show, so it's a lot to balance."
Along with Walsh, many seniors will be starting in what will be their last theater production with Glenbard East. One of these seniors is Sam Rotar who will be playing Leanne, Ginny, Helga and Frenchy. "It's bittersweet because I'm sad to leave but also it's kind of time." Rotar expressed in response to questions surrounding her feelings towards her last production with East. Post graduation, she will be majoring in musical theater at Illinois State.
In contrast, many freshmen are coming up to the plate and representing the next generation of performers at East. Not only are these freshmen on stage, they're also backstage working hard to create the best shows possible. Avery Corral, who was in Hay Fever but is also starring as Harry Potter said, "I'm excited, but it's also a little scary still." Olive Turner also said, "It's so crazy to me because this is my first show." McKenna Schanks, who along with Corral and Turner, was apart of the ensemble for "Mamma Mia!" shared, "I'm literally so excited, like I can not wait to have all these new shows because when I think about it 3 shows every year for the next 3 years, I can not wait!"
This show has something for everyone, with comedic aspects for those coming for the comedy, the aspects of "Harry Potter" for all the Potterheads, and the fun for those looking for a fun night out! "It's such a good time. You'll laugh, you'll cry!" describes Jillian Gorvett when sharing why people should come out to see "Puffs". In addition, Voke states, "It's the best! It's a show full of magic, fun, drama, romance, just everything!"
Tickets are currently available at gefinearts.org for both the show along with limited tickets for the dinner and show package. For students and seniors, admission is $8, and for adults it's $10, or for any of the dinner packages, admission costs $25. Tickets are also available at the door for all 3 days, excluding the dinner packages which have to be purchased online which are on sale until April 18th.