Jeff Eaton: a memorable microphone of magnetism
This is not the article that we were supposed to write. 
We were supposed to write an article about a student we had just met who left an impression everywhere he went.
 The first time we met Jeff Eaton, he proudly clutched a folder stuffed with "friendship contracts" as he shared his vision of wanting to become friends with as many people as possible.
It was just days before Homecoming, and we knew we wanted him and his creativity on our Echo staff, but we also wanted to write a story about him. Because of "rules" we don't write stories about ourselves, so we came up with a plan: first we were going to write an article about him, and then he was going to join us and start creating Echo content himself. 
The article we were supposed to write was about his outgoing idea of his friendship contracts for which he was filled with passion and excitement. 
Sadly, Jeff, only a senior in high school and with so much left to do, passed away on September 25, 2022. 
Jeff transferred to East his junior year. He was someone who believed there wasn't such a thing as having 'too many' friends, which is why he started the friendship contract. The main goal of this contract was to become friends with anyone who Jeff saw in the hallway. 
"It's my senior year, and I haven't been at the school all 4 years, so I wanted to know a lot more people before I left the school and make an imprint that I was a person who went here," Jeff said just days before his passing.  "I want even the freshmen and sophomores to know me," he said.
Jeff said he wanted to help other students who might struggle to make friends
 "I could make a book. '100 ways to make new friends at a new school and not feel like a new kid,'" he said.
Senior Kameron Mabias was a close friend of Jeff's, knowing him from 6th grade.  He said while the idea of friendship contracts was strange, he was not surprised because it came from Jeff.
 "So he actually showed me all his papers. I was like, Man, you're crazy. I was like, hey, man, keep doing you. I was like, this man really did that," said Mabias.
Mobias said that whenever he spent time with Jeff, there was never a dull moment. His favorite memory is when they got chased by a dog and were filled with laughter as they jumped over fences. 
Everyone we talked to had similar affection for Jeff.
English teacher Terresa Lawrence taught Jeff this year in her 6th period African American Literature class. She said that the class has not been the same since because he was the loudest voice in the class. 
"The one thing I can say is that he was always thirsty for knowledge," Lawrence said. "He always wanted to know more. He was always questioning. He was probably one of, if not the most, involved in our class discussions. And he really had a way of being very real and authentic about what he was feeling and experiencing. He was unapologetically unashamed to say how he felt," she said. "He was always positive. He was always happy. I called him Tigger from Winnie the Pooh since he was always bouncing around."
Emily Lopez, a senior, was in the class, and she was Jeff's good friend. She said the class was vibrant with the sound of his passionate voice, which made everyone closer.
"He always asked the questions. He was the first one to just raise his hand asking what does that do? What does this mean? It was just chaotic everywhere because everyone was close to him. Everyone just had to speak with each other. And it was a special class," said Lopez. 
David Elliott taught Jeff in his Algebra 2 class last year. He said all of the students felt welcome because of the positive spirit Jeff radiated. Even the substitute teachers remembered Jeff's energy, Elliott said. 
 "He would come in and he would not just greet me but he would greet every kid in class, and go around fist bumping or high fiving and saying hi to everybody. He had a way of making people feel included, and if people felt uncomfortable with that he just kind of kept on until they felt comfortable," said Elliott. 
Even outside of the classroom Jeff's roaring voice defined him. Senior Jane Roth met Jeff her junior year at lunch. She said that you could always tell where Jeff was because of the yelling that surrounded him, and that he was always doing something random. 
"The second time I met him, I was walking down the English hallway. And I'm just walking past minding my own business. Next thing you know I get hit in the head with a pillow. I'm like, what, like, what's happening?" said Roth. 
Lopez said, "If he saw me down the hallway he would scream my name and all you could hear was 'stomp stomp stomp'. Even if you didn't know him and his name, you would know of him as the dude that screams in the hallway for no reason."
Now that he is gone the school has gone quiet, everyone said. 
"The energy has been low these past couple of days. Because it's definitely changed. I feel like it changed throughout the whole school. It's not as used to be like always, it's not that loud. Just quiet," said Mabias. 
Although Jeff is gone, his spirit still lives. The African American Literature class has devoted their class to celebrate Jeff and held a celebration of his life with food, music and stories on September 30. And at the end of the course, their annual magazine will honor him with a collage of the friendship contracts.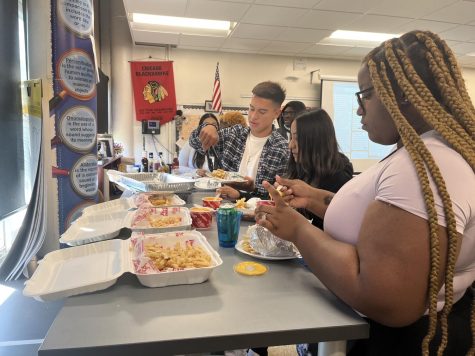 Many other events have been held to honor his memory. On the night of September 26, there was a balloon release and a candlelight vigil the same week. 
The Black Student Union sold bracelets in honor of Jeff and created a Padlet for his mother where anyone could share their memories of him. It has over 50 responses from both students and staff. 
One Padlet response said "Everytime you would come up to me and talk to me, it would be the best moments of my life. You truly were the funniest person ever and the sweetest too. I loved your vibe. Wish u were still here love." 
Click here to access the Padlet to look at or share a memory of Jeff Eaton.