The Story Between Ticketmaster, Taylor Swift, and The Eras Tour
One day until the official Eras Tour begins, and 77 days and counting until Taylor Swift arrives at Soldier Field to perform for all of the Chicago Swifties. The journey to all of the excitement wasn't easy though, with broken down websites, and even a lawsuit against Ticketmaster, fans may even say, "We survived the Great War".
On November 1st, Taylor Swift broke the internet by announcing that she would soon be going on tour. "Midnights" her latest album, released on October 21, 2022, broke hundreds of records and many fans speculated that after the drop, she would soon go back on the road.
Swift started the announcement of her tour by saying, "I'm enchanted to announce my text tour: Taylor Swift | The Eras Tour, a journey through the musical eras of my career (past and present)" on an Instagram post.  Three of her announced 52 shows, June 2nd, 3rd, and 4th, will be played in Chicago at Soldier Field. Openers for this tour include Paramore, beabadoobee, Phoebe Bridgers, girl in red, MUNA, HAIM, GAYLE, Gracie Abrams, and OWENN.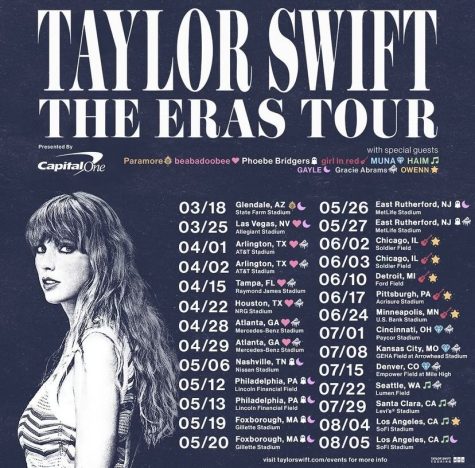 The fans exploded with excitement after Swift's announcement. Millions of fans posted TikTok videos or reposted Swift's Instagram post on their stories. You could even find videos of people planning out their outfits in preparation for the tour. It was an understatement to say that fans were merely excited, they were exhilarated.
On November 15, the day of the presale, millions of fans hopped onto their computers to join the waiting room which opens 30 minutes before the sale happens. After the countdown concludes in the waiting room, everybody who was there is randomly placed in a queue, no matter what time you joined the waiting room. 
Around 30 minutes into the actual sale, Ticketmaster crashed, showing the message, "The Queue Has Been Temporarily Paused" to anybody who was in the queue. Ticketmaster continued to stay on pause for over two hours until letting people back into the queue, and into the ticket sale.
Once people finally got back into the sale, many experienced a multitude of problems. Junior, Ava McMillan said, "The process of getting Taylor swift tickets in Ticketmaster was ridiculous – the queue that was paused for hours, the way people got kicked out for no reason, and the lack of organization was disappointing, to say the least." 
She also expressed concern about the crazy fees that Ticketmaster charged calling them, "astounding" and "unnecessarily high". She said the experience was "awful" and "frankly unfair."
Ticketmaster uses a process called "dynamic pricing" for tickets, meaning that ticket prices will go up as the demand for them increases. This means that only a few people were able to get tickets at the advertised prices of $49-$449, and everybody else had to pay inflated prices. However, those inflated prices paid through Ticketmaster did not compare to the resale prices with some tickets going for over $20,000
With all of the disorganization, and problems occurring with Ticketmaster, many people were not able to get tickets. Even those that were able to secure tickets still had many problems with their experience. 
Joan Murphy; mother of Glenbard Student Kaitlin Murphy who was able to secure tickets, expressed, "It took 6 hours and it caused me to be emotionally drained." She also said that Ticketmaster kept sending her false alerts. 
After the presale fiasco, Taylor Swift fans banded together to file a lawsuit against Ticketmaster, and its parent company Live Nation, for its monopoly on the ticket sale industry and for misleading fans about the Taylor Swift ticket sale. Ticketmaster was also accused of engaging in fraudulent practices and many antitrust violations, such as price fixing and price discrimination. 
On November 17th, it was announced by Ticketmaster that the General Sale that was set for the next day, Friday, the 18th, was canceled due to the extremely high demand, and unavailability of tickets. This sent fans into a frenzy. After everything that happened with the presale ticket sale, many fans were relying on the next sale to get tickets, and now that it was canceled, many fans believed they wouldn't get tickets after all.
Live Nation chairman Greg Maffei, came out after the sales to say, "The site was supposed to open for 1.5 million verified Taylor Swift fans. We had 14 million people hit the site, including bots, which are not supposed to be there." He also expressed that the demand for Taylor Swift tickets "could have filled 900 stadiums"
Taylor Swift didn't remain silent though and stood up for her fans soon after, posting an Instagram story on November 18th saying that she contacted Ticketmaster multiple times asking if they could handle the demand, and they assured that they could. She also said that she was excited for the 2.4 million that did get tickets, but was upset because of how hard it was to get tickets. She ended off her statement by saying that she hopes to provide more chances to those who didn't get tickets to, "all get together and sing these songs." You can read her full statement below.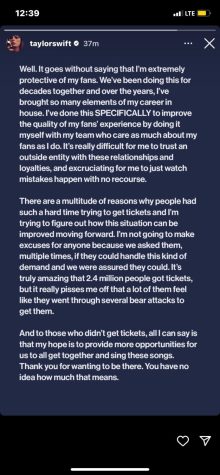 The Eras Tour ticket sale can be summed up in one word: demand. And Ticketmaster's response to this demand can also be summed up in a word: lacking. Fans all over are devastated by how Ticketmaster handled this situation tangibly showing itself in the current lawsuit against them. Ticketmaster has seemed to have a monopoly over ticket sales for the past decade, but with the craziness occurring over Eras Tour tickets many are wondering, is it time to move on?