East students work at Marine Biology Lab of Oceanographic Institute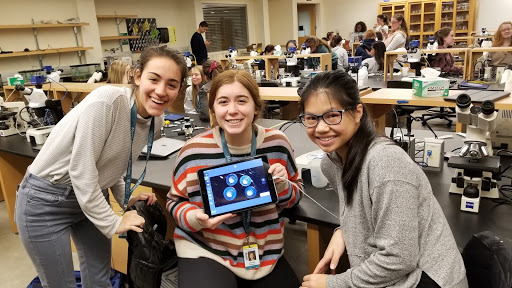 Getting to work under accomplished scientists at a renowned lab almost seems like a dream for all students interested in science, but five Glenbard East students had the opportunity to do just this. Kaitlin Klasen, Ashley Ziemer, Gabrielle Spontak, Megan High, and Grace Iovinelli were invited to the Marine Biology Lab of the Oceanographic Institute in Falmouth, Massachusetts where they engaged in a week of learning beyond the typical high school science classroom. 
The Marine Biology Lab, one of the oldest marine research labs in the country, recently started a program to invite students to observe their research. In fact, Glenbard East was the third school in the nation to be invited to this program, according to Marisa Abrams, science teacher and chaperone for the trip. 
The students participated in many activities at the Marine Biology Lab where they worked under Nipam Patel, director of the lab and an award-winning microbiologist. 
The focus of the program was to learn about marine invertebrates and their anatomy, said Kaitlyn Klasen. For example, according to Abrams, they performed dissections on fish, sharks, coral, and sea urchins.
One of the highlights of the trip was "getting to see the labs and getting to use the equipment," said Klasen. In one of the labs, the students stained zebrafish embryos and watched how different parts of the body, such as the muscle tissue and the central nervous system, formed as the embryo developed. They used a million dollar confocal microscope to visualize the development of the embryos, said Klasen. Abrams said such research could potentially be used to help people with birth defects. 
The trip proved not to be just academic, but also inspirational, said Klasen. All the people there were "passionate about science or whatever research they were doing. There is a lot of room to go into these different careers and a lot of research that hasn't been done," said Klasen. She said she learned from seeing how "accomplished" people work in their day-to-day jobs and what it would be like to have a career in marine biology or science in general.
Ms. Abrams said this trip demonstrated the importance of taking advantage of new experiences.
The students learned about the program through Mr. Martinez, whom they all had as a teacher last year and who had gone out to the Oceanographic Institute over the summer. When he learned about the program, he informed these students about the opportunity, which was generously funded through an anonymous donor. 
It is important "to never pass up an opportunity because it scares you. That should make you want to do it even more," Abrams said.